It's officially Christmas time y'all… the air is getting colder, the tree is going up and my Cricut has been going non-stop making holiday decorations (like this metal infusible ink sign or this adorable little sled!).
All that means is that it's time to officially set the dining room table for the holidays! I always love putting together a pretty tablescape and having to pull it down after a day or two is never fun. Which is why I'm so thrilled that my new house has an island! I can set my table and leave it up all season… I'll just eat at my island unless I have company over!
In which case my table will already be set!
Score!
This year I'm breaking in my new dining room with a combination of pastel colors: blues, pinks and lots of white. I wanted to pull in the blue of the pie safe, the pinks of the kitchen and tie it all together with the puppy dog Christmas plates.
They're so cute!
And the best part? A few of my friends have also put together fun tablescapes for y'all… extra inspiration y'all! So check out my Christmas setup and then scroll down to check out the rest of the line up.
Let's get started.
Supplies:
Blue Dinner Plates
Snowflake Cake Stand
Christmas Table Setting:
Start with a Single Piece of Inspiration
On this table I was going for an eclectic collection of things I loved, all centered around the new Christmas puppy plates I picked up at Dillards. These little puppies are soooo cute, I love the beagles and golden retrievers! Even more than that I really love the soft feeling of the artwork on these plates.
BUT they're not exactly my style… they have a little too much red and green for my tastes. (Which is fine… since they're actually a present for my Dad and Step-Mom (hope y'all aren't reading this post!!)).
Which means we'll have to tie the plates into the rest of the tablescape.
I began to tie the entire table together by using mainly white or off white pieces: the chargers, lazy susan, and cake stand. Even with the white and pastels on the table the red and green's on the salad plates stood out a little more than I'd like.
Luckily there was an easy solution: add a few sprigs of rosemary and cranberries to glasses of sprite. The bubbles and the colors help add a few fun pops of color to help tie in the plates to the rest of the table.
This is a fun trick I learned from Michelle over at Weekend Craft (she's also sharing a tablescape today.. you can check out her more traditional table right here!).
Once I had the plates down it was easy to keep going.
Add Little Touches to Bring it All Together
This table needed a little unity so I kept playing around and switching things out until I found a combination that made sense. I ended up with my clear highball glasses and the small footed glass dessert dishes that go with them!
I love how these are clear so they don't take up a lot of visual space on the table but they're still pretty with a bunch of detail.
I added a bit of silver tinsel ribbon to the dessert glasses and then placed a few resin presents I whipped up into each dessert glass (I'll have a tutorial on these soon!). When my tapered candlesticks didn't fit into my mercury glass candle stick holders I wrapped a few lengths of tinsel ribbon around the bottoms to adjust the fit… now they stand up straight!
Then it was just a matter of adding a few mercury glass trees and even a few adorable resin trees to the table to finish it all off.
I know it may not be everyone's cup of tea but I absolutely love how this little tablescape fits into my new setup… it blends seamlessly into my kitchen and dining rooms.
I can't wait to see what other settings I can come up with in this room (and to lower the chandelier!!).
If you're looking for other tablescapes you can check out the blush resin table I put together here or the spring time easter table I put together here… or my most recent masterpiece: the pink garden table I put together here!
Enjoy!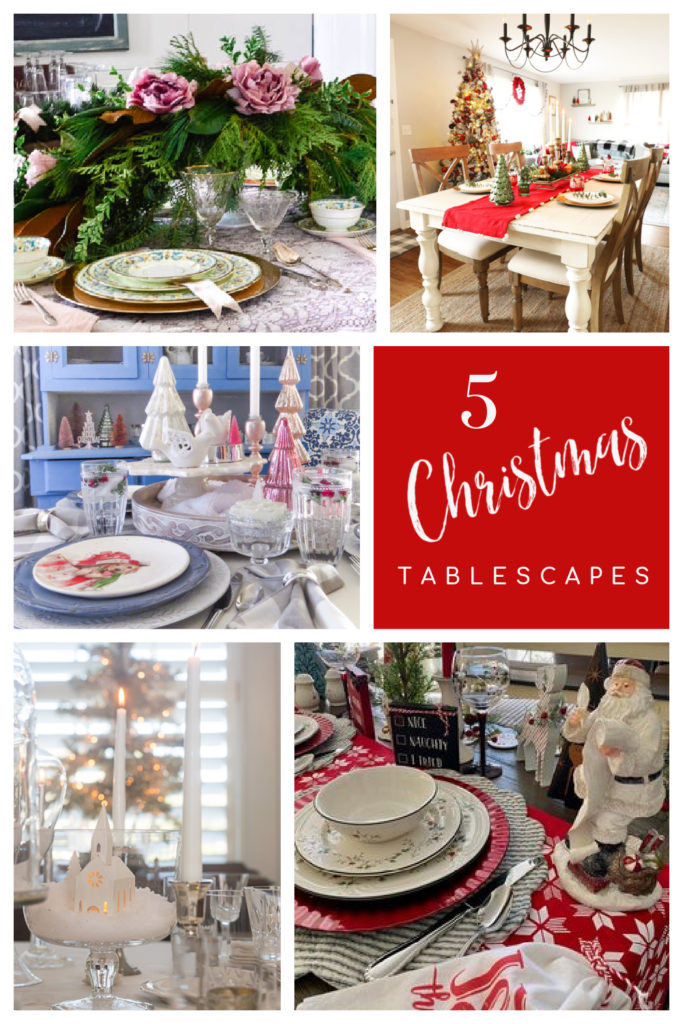 Ready for a few more tablescapes? Here are the tables that my friends have whipped up! They're all completely different so you have plenty of inspiration to pick from.
Enjoy!
5 CHRISTMAS TABLESCAPES TO INSPIRE YOU THIS SEASON
HAPPILY EVER AFTER ETC * WEEKEND CRAFT * RED COTTAGE CHRONICLES * NOURISH & NESTLE * CREATE & BABBLE
Looking for more table decor? Check out these fun Tablescapes!