Every week I receive dozens of questions from you… which is absolutely amazing! Unfortunitely I can't answer each and every one of them (although I do try) but I make sure to answer at least one question each week in my weekly newsletter where you get behind the scenes tips, tricks and fun information.
Of course, some of the questions I receive are short and sweet… quick to answer. BUT some of those questions have long answers… answers I think the rest of my readers just may benefit from. So here are those answers! Starting with today's question:
Hello,

Thank you so much, Betsy. Do you know any references for cheap venues and decorations?

-Heather
Hi Heather,
Weddings on a budget are the name of the game around here… since I haven't seemed to locate any type of money tree!
I wrote a fun post on inexpensive succulent decor for weddings last year but so far I haven't tackled cheap wedding venues! There are soooo many ideas though: zoos, backyards, national parks… well you'll see the list soon enough.
Decorations will have to be an entirely different post since there are about a million different ideas zipping through my head already. In the meantime here are my favorite ideas for 21 wedding venues on a budget.
I hope this helps!!
Museums
Depending on the city you may have a museum with a large hall that would be the perfect wedding venue. They're very unique locations and can be a little quirky and fun! Typically a museums rental fee will be above a park but below a ballroom.
If you and your honey are intellectual types this could be the perfect place to host your special day… just look at this stunning museum outside of Norfolk, Virgina. (It's called Hermitage Museum & Gardens in case you were wondering).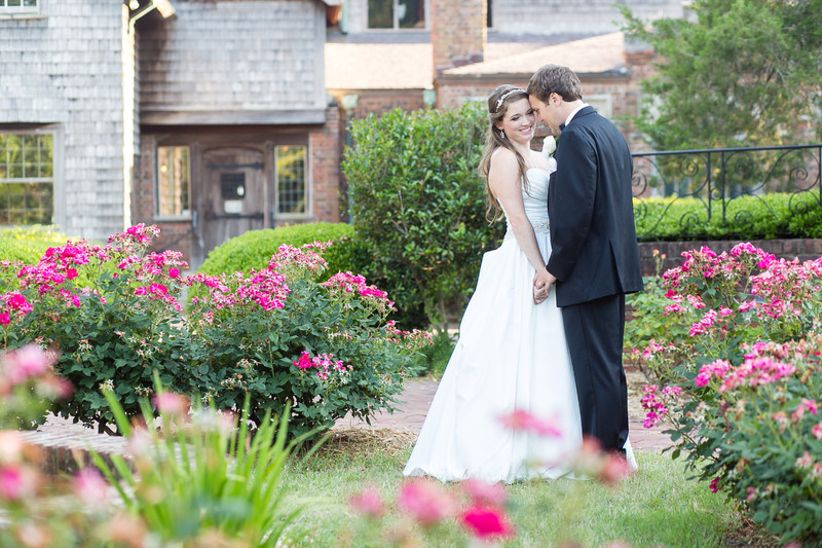 Airbnb
Airbnb is great for an inexpensive vcay but it's useful for so much more! There are beautiful homes for rent that would be perfect for a small intimate wedding. You can rent an entire home and be married on a dock or under the stars… a quaint wedding in the woods or in a garden.
Plus if you rent the home you have a built in place for your bridal party to get ready.
You can rent event locations with Airbnb too and a lot of the time, they're much cheaper through Airbnb than they would be if you booked direct.
It seems a little strange to me but I suppose it's a bit of advertising for the venues! You can start by searching "wedding venues" and your desired city in the search bar directly on Airbnb but since the site isn't made specifically for renting venues there are a few tricks to finding the best venues. Try heading to google and searching "site:airbnb.com wedding [city name]".
This will bring up all the listings that have the keyword 'wedding' anywhere in them!
There are usually a good handful of Airbnbs local to your region that make for perfect wedding venues–– and are specifically willing to cater to the occasion.
Just remember… before you rent that sweet little country home for your garden wedding to chat with the hosts first. Some listings have a guest limit that would be overrun by a wedding of even 30 people. While you're probably fine for an intimate wedding including the groom, bride and officiant I find honesty is always the best possibility.
County Courthouse
The courthouse may get a bad rap but honestly they're not as bad as they can be made out to be. My sweet friend (also named Heather! Isn't that ironic?) from high school had a wedding at the courthouse and then a big party at home for all her friends and family.
She wore a beautiful dress and had an intimate ceremony with her groom, their parents, grandparents and a witness or two before coming home to party. If you choose to have a bridal party they could come in their wedding gear as well!
Remember it's all about priorities… sometimes a smaller ceremony can mean a bigger party afterwards! Not to mention the courthouse is often the oldest, most beautiful building in a town… just take a look at the courthouse wedding above! Want to see the rest of the wedding?
Mayors Office
Okay so this is basically the Courthouse except at the Mayor's Office! Typically if you hold your ceremony at City Hall, you're actually married by the mayor anyways. Which is a fun little tidbit for your wedding day. Just keep your ceremony small and you'll be able to plan a fun reception or honeymoon.
Trip to Paris anyone?
City Parks
Local city parks can be a beautiful venue to hold your wedding if you're looking for an outdoor space. The best part is that most cities and towns don't charge since city parks are community spaces… but on the other hand gazebos, amphitheaters, shelter houses and other structures are often first come first serve.
Before you plan your special day around a communal space call City Hall or your local Parks Department to see what the requirements are. This could be the location of your dreams (or maybe it's just me… I really like gazebos!)
Small churches
Until it's time to tie the knot you may not realize that getting married in a church costs a little bit of moola. If you have your heart set on a church wedding there are a couple of solutions. Of course, belonging to a church makes the decision easy since members of the church typically pay a fraction of the cost to be married in the church compared to outside community members.
If you don't belong to a specific church and churches in your area are too expensive, try a church in a smaller town nearby. A lot of the times, smaller churches are overlooked for events so their fees are quite a lot less than the bigger city churches.
Your Backyard
It doesn't get much cheaper than your own backyard. Holding your wedding at home is a great reason to do a little home improvement plus you'll have wonderful memories for years to come. Imagine looking out the back window every morning to see the exact spot you said your vows.
If your yard is large enough (or you plan to hold a smaller wedding) a backyard wedding is the perfect location. If not, see if you have a friend or family member who will let you use their yard.
Photography Studio Wedding Venues
This is one I never would have thought of! They're typically set up as a big blank box… so that the photographer can be creative with changing the backdrop of their shoots!
This gives you the perfect blank canvas for your event! Many photography studios even have kitchens so you can bring in your own wedding caterer or cook without having to book an additional space. Which kind of rocks.
Of course, being a blank canvas can be a blessing or a curse… all that blank space is a lot of space to decorate!
Local Aquariums
Like museums, aquariums can also be rented for a lot less than other venues. Even more than museums an aquarium would be a venue to talk about!
Some aquariums will charge you a couple hundred dollars to rent a room or area… which can be a great price for a venue to talk about. If the other venues in your area are charging several hundred, this would be a far better idea for a cheap wedding venue.
Your Street/Neighborhood
Another cheap wedding venue is right outside of your home! This entire idea reminds me of Pheobe's wedding on Friends when she gets married in the street with the snow and twinkle lights all around. Looking back the wedding didn't even look like it was on her street!
Of course, if you live on a busy street or intersection this probably isn't a great idea. Call the city and apply for a permit to block off a portion of your street. Block it off and set up the wedding ceremony on one end of the blockade and have a block party reception on the other end… picture perfect.
Community Gardens
Does your city or town have a community garden? Not a big huge garden that you have to pay to enter but a community plot where the neighborhood can plant beautiful flowers?
Why not have your wedding there? Most won't charge much at all to rent the garden provided that you agree not to damage the plants. (Let's just agree that you shouldn't do damage at ANY of these venues).
Since a community garden is often for the community it may even be free to have your wedding there (score!). Of course, you and your new spouse may be able to spend a few weekends working in the garden to help.
Your Local Beach
Do you have a beach nearby? Beach weddings can be super cheap… and beautiful! Of course, getting married at the beach is not a new concept BUT beach weddings can be absolutely beautiful.
Call the beach's visitor center to make sure that they don't have an event fee and or registration and then plan your wedding! Even if they do have an event fee a local beach typically will be less expensive than a commercial venue.
Just be aware that unless the beaches visitor center has a protocol for blocking off the beach the downfall of a public venue is that it's public. Be aware that other folks may show up to use the beach… be respectful of them and they SHOULD be respectful of you.
No promises though 😉
Just make sure that you clean up your mess and leave the beach cleaner than you found it.
Coffee Shop Wedding Venues
Coffee is such a live or die kind of idea… people absolutely love their coffee! If you met at a coffee house this could be a really quirky venue!
Now, I'm not talking about your regular hole-in-the-wall coffee shop… think larger coffee shops that are privately owned.  Several larger coffee shops also double as event spaces… you just have to do a little bit of research.
State or National Parks
State or National parks are also a fantastic place to have an outdoor wedding… depending on your area there may be beautiful, smaller parks that would be a wonderful venue. Parks do have an entry fee (even for guests) so most will have an event fee for a wedding. Typically it's anywhere up to a few hundred dollars that you'll have to pay to reserve.
Of course, I have also heard of State Parks that don't have a fee (we have a small lakeside state park near our home that doesn't have a fee but is absolutely beautiful). Call the Park Ranger office or visitor center to get all the information that you'll need.
Art Gallery Wedding Venues
An art gallery is so much like a museum this could be right under the first venue! An art gallery typically has large spaces filled with beautiful (or at least interesting!) art… and it's likely to double as an event space.
Since an art gallery changes it's art depending on the current show an art gallery is more of a "blank canvas" type of space (kind of like the photo studio we talked about earlier). Of course, depending on the gallery there is the option to host your wedding with the art present or completely empty. Whether the room is empty or full of art the gallery is the lighting is sure to be amazing… to display all that art!
On a Boat
Are you a beach baby? While the beach itself is a fun venue there is so. much. sand. So why not rent a boat as your wedding location?
Airbnb can be a great place to rent a boat (who knew?!) but you can also check lesser known places like Craigslist and even Facebook groups. If you're chartering a boat make sure it's large enough to hold your entire wedding party and guests along with anything else you may want to bring with you.
Bed and Breakfasts
Bed and Breakfasts are also a great wedding venue… they can be a quaint little space to hold your wedding. Plus there will be plenty of rooms for your wedding party to get ready! There's something to be said for a leisurely morning preparing with your girls followed by a small wedding with friends and family.
With a small wedding party you may even be able to rent the entire bed and breakfast for the weekend without blowing your budget… giving your guests the perfect place to spend the night.
Local Zoos
We actually looked at the zoo when I was planning our wedding… there are plenty of event spaces present throughout the park and you can see a few of your favorite animals.
Your guests won't get bored waiting if they're feeding the giraffes or watching the elephants. Event fees can range from $50 to $500 depending on your location, but that is considerably cheaper than most other wedding venues.
Call the zoo's office to see if they allow events and if so, what their fees are and what is included in that cost. Depending on the zoo you may be able to rent a specific pavilion, exhibit or even the entire zoo!
School Stadiums or Gyms
School stadiums take a lot of money to build so they are often rented out for events. This would be an adorable venue for high school sweethearts or a couple who met in college!
If you have a specific school in mind a quick call to the school board will let you know if the stadium or gym is available. The library or football field could also be a fun venue!
Theaters
Theaters – no not the big box office type where you saw the latest Avengers film (although that may be fun after all…)- are often beautiful and grand. My family has season tickets to the Fox Theater in Atlanta and it is absolutely beautiful and full of history.
Most theaters rent their buildings out for $3-$500 for events (although broadway theaters in larger cities may be more expensive). Theaters in smaller cities should be even more affordable.
Brewery Wedding Venues
If you love beer a brewery could be the perfect venue. They're a fun and unique location with just a touch of quirk. They will often have large spaces that are able to be transformed for events, and are often hooked up with all the right vendors to suit your wedding day needs. If your wedding party is the type that loves a party party, breweries as a wedding venue are a great option.
Get Your FREE Wedding Binder
Trying to plan your perfect wedding?
Here's 42 FREE printables to help you get organized!