Alright y'all if you've downloaded my FREE Wedding Binder you're probably the type of bride I was… nervous that everything would go wrong, wanting everything to be just right, hoping to make everyone happy and wishing all of your guests will have a great time.
That's all well and good (and no words from me will stop you from worrying! Trust me, I get it!) but trust me again when I say that outside of you, your mama, your best friend and (perhaps) the groom and his mama your wedding guests just aren't going to notice or care about so many of the little details.
So you do you, it's your wedding after all! But here's a quick list of 10 things your wedding guests don't care about.
1) The Invitations
With the exception of your mama or a few close friends most of your precious, beautiful, laser cut invitations will end up where they don't deserve to be… in the trash. So when looking at the options think about all the beautiful things you can add: foil lined envelopes, wax seals, confetti and all of the functional items you can add: rsvp cards, directions etc. Now marry the two.
I'm not saying you have to cut out alllll the pretties but perhaps you don't need all of them? Perhaps you don't need them hand lettered by a professional calligrapher with 24 carat gold ink?
I mean that would be amazing but I think if you're reading a blog post instead of hiring a wedding planner a bit out of the price range as well!
The Solution: Find a budget friendly option. There are beautiful printable invitations these days, collecting RSVP's on a wedding website instead of including a return envelope and stamp is more convenient anyways and forgoing the professional calligrapher for a night of wine and a bachelor marathon with your girls is way cheaper!
Of course, you don't have to go completely DIY to save some cash. Minted has beautiful wedding sets (like the one above) for way less than a professional invitation designer and can typically address them for you (for free).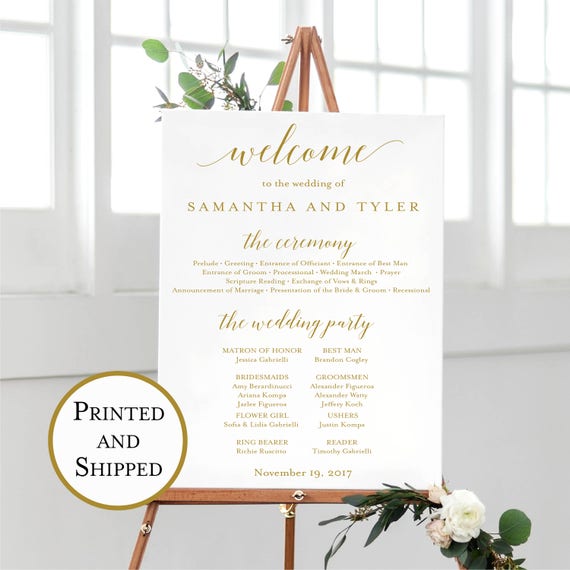 2) The Programs
Programs are basically invitations with a shorter lifespan. Your guests will use them to check how much longer they have until the ceremony is over and then they'll throw them away as soon as they hit the buffet.
With the exception of me, the weird friend who scrapbooks everything. (Let's just assume alllll of these rules don't apply to me.) I have invitations from the last 5 weddings I attended carefully preserved in my planner. They're just so pretty!
This is the curse of being a sentimental-scrapbooking-memrory-hoarding-graphic-designer. You put sentimental invitations on paper and I'll keep them forever.
The Solution: A large chalkboard or printed board outside the wedding ceremony serves as a great program of events. It tells everyone who's who and what's what. Which is kind of the point of the program in the first place! Plus buying one program as opposed to a bunch of them is always cheaper.
Of course, if you really want printed programs I would suggest something like these little fans… they're practical so your guests will L-O-V-E them and these little guys are even printable so you can skip the huge dollar signs and put them together for way less.
Which is my favorite kind of price tag.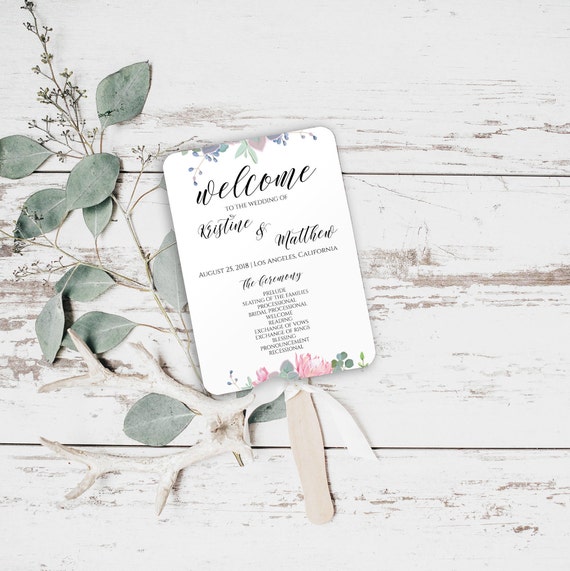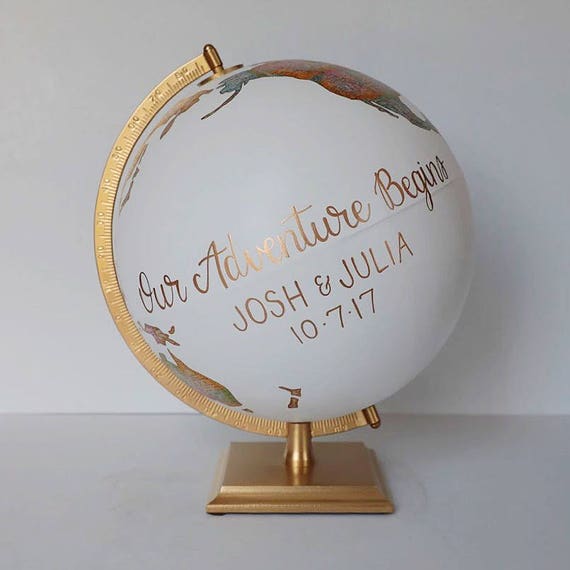 3) The Guest Book
I think I've had a vendetta against the guest book for years… what's the point? You have alllll your friends and family sign this beautiful book. It's a lovely gesture of love and then you lock it away, toss it on the coffee table, open it once every 10 years!
The Solution: I love a guest book (like this little globe) that you can proudly display in your home after the wedding. Our globe (yes we had a globe) sits in our living room and I love seeing all of the signatures as we walk by it on a daily basis. If you want a guest book think about something that you can use in your home not lock away in a drawer. 

The added bonus? A canvas, globe, everyday item is typically less expensive than a large bound wedding guest book!
4) The Fancy Schmancy Flowers
Flowers are gorgeous… they're also expensive and your guests can't tell if your flowers are from the fanciest floral designer in town or the farmers market across the street!
So while I'm not saying to nix the flowers all together I am saying to re-think your flower priorities. I decided that while I realllllllly wanted live flowers I just couldn't afford to have live flowers everywhere. So I paid a local florist for our bouquets and boutonnieres (basically the flowers that would be in pictures!) and went with faux flowers for the centerpieces.
While faux flowers will probably run you about the same as flowers from a farmers market you can put them together ahead of time which was a plus in my mind. My mama helped put together flowers for a friends daughters wedding where they picked flowers from the garden (another cost effective solution!) but when they ran out of flowers the night before the wedding they were running all over the neighborhood looking for more! A big chunk of time the night before the wedding that could have been spent relaxing (or worrying about something else… which is probably what would have happened.)
The Solution: Think about what is important to you with the flowers, your guests won't care if they're real or faux. Fancy or not fancy! A bunch of wildflowers in pretty blue jars looks amazing grouped together on a table!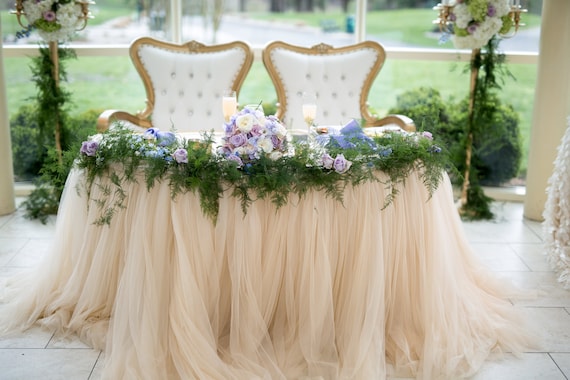 5) The Linens
Trust me… unless you're looking under each and every tablecloth for the ring bearer who decided to play hide and seek your guests probably aren't spending a lot of time looking at your linens. While you can sped a lot of money on specialty linen it may not be needed.
The Solution: Check with your venue. Often times they will include basic linens… our venue included white table cloths, chair covers and linen napkins in a variety of colors. We were able to pick a color that closely matched our color scheme for the napkins and leave the rest white.
If you're looking for a little bit of pop with the linen but don't want to spend a fortune think about just adding special linen for the head table or the bride and groom's chair. A decorative table cloth (or tulle skirt!) on the cake and present table is always a nice touch.
A tulle skirt on every single table is just dollar signs y'all.
6) The Cost of Your Dress
When I got married I watched every single episode of "Say Yes to the Dress" it was a nightly activity in our house. I quickly became obsessed with one dress… a beautiful blush colored tulle confection (the one up above) that cost thousands of dollars. I thought I would look like a princess in this dress but when I went looking I couldn't even find the dress in my area.
I could order it but without being able to try it on or even see it in person. Thousands of dollars for a dress I would wear for one day and I couldn't even try it on to make sure it was "the dress." If it came in and I didn't love it I. was. screwed.
Well, of course I didn't do it… I put my dreams of a designer dress on hold and found a beautiful dress on the clearance rack at David's Bridal. It was missing one bead and marked down to 500 dollars… thousands upon thousands under the original dream dress of my Say Yes to the Dress fantasy.
Guess what? Not a single one of my guests commented on the price of my gown or came up to me saying "if only you could have gotten the designer dress, it would have been lovely." NONE of them cared… they only knew I was a beautiful bride, in a beautiful dress!
The Solution: Before buying your dress think about the cost and options available to you. If you really have your heart set on that one designer dress I'm not saying don't go for it… I'm saying that your guests won't care if you do… and neither will your future self. Married you is sitting at home looking at beautiful wedding pictures and trying to figure out how to make the drier stop making that banging sound so she doesn't have to go to the laundry mat for the 3rd time this month.
Shop sample sales, clearance, and local shops to find a gorgeous dress in the same style as the designer gown you love but with a lower price tag.
8) The Cake
Cake is cake y'all. When picking your cake they can be ridiculously extravagant: towering layers, handcrafted sugar paste designs, 24-carat gold motifs… it's definitely gorgeous. A sight to behold! But it's also going to be eaten.
Focus on how amazing your cake looks. Ask your baker if there are solutions that will be less expensive but just as beautiful. For our cake we had 4 tiers and I wanted a beautiful filigree pattern that in all of the example cakes was an added layer of 3-D appliques. Our baker was able to replicate that same look and feel of the appliques with a frosting design that was much cheaper.
Since we did a simpler pattern for the alternating layers our cake came in under budget so keep in mind that even if you want to go with a beautiful handcrafted design swapping that layer with a simpler layer every other layer? Or even having 4 different layers may save you some cash.
The Solution: Get creative. Have a cake in mind but ask your baker if they could make any changes it make it less expensive… you never know how they'll surprise you!
Of course, lots of people are opting for cupcakes or candy bars… dessert stations! The jury's out (for me at least) if that will actually save you moola but I'm sure there are budget savvy options there too.
Get Your FREE Wedding Binder
Trying to plan your perfect wedding?
Here's 42 FREE printables to help you get organized!